NOTICE:
After receiving the goods, please read the operation manual carefully and completely, and make sure there is no doubt.Then your professional electrician will install the circuit according to the operation manual.  If you have any questions, please feelfree to contact us.
1.Outlook Checking
After receiving the Hydraulic Power Pack, pls observe the overall condition of the goods first. If there is external damage, pls stop using the goods and contact our factory at the first time.  Only after the problem is resolved can it be used.  
2.Main Components Description of 12V Hydraulic Power Pack
1.Motor:DC12V、2.2KW  
2.Gear Pump:1.6CC/R  
3.Solenoid Valve:Normal close、12V   
4.Oil Tank:8L Square tank, horizontal type.
3. Installation
1.Please fix the power packs with 2pcs of M10 bolts. The two optional mounting distance are 60mm and 82mm
2.The PT port size is M14*1.5.
3. Open the red breathing cover on the tank and inject the hydraulic oil into the tank.  The specific level indicator can be measured by the dipstick at the bottom of the breathing cover.  The hydraulic oil level should reach 4/5 horizontal height of the tank .  (Too little oil will cause a waste of tank volume, which can not achieve the best hydraulic oil heat dissipation effect.  If the oil is too much, it will overflow through the breathing port, resulting in pollution of the working environment and dangerous accidents.)  
4. Generally choose No.46 (or No.32) anti-wear hydraulic oil.  If in the temperature is high in summer, pls refer to the selection of no. 64 anti-wear hydraulic oil.  
5. The hydraulic oil temperature is generally between 30 ~ 55℃ during working.  Do not expose the system to sunlight directly, and ensure that the system is well ventilated.  When the system is in high frequency use, more attention should be paid to the temperature of hydraulic oil. If the temperature of hydraulic oil is too high, stop using it immediately.  Wait for the oil to cool down and then use it.  
4. Wire Connecting Description
Connect the motor, motor start switch and solenoid valve coil to DC24V circuit respectively.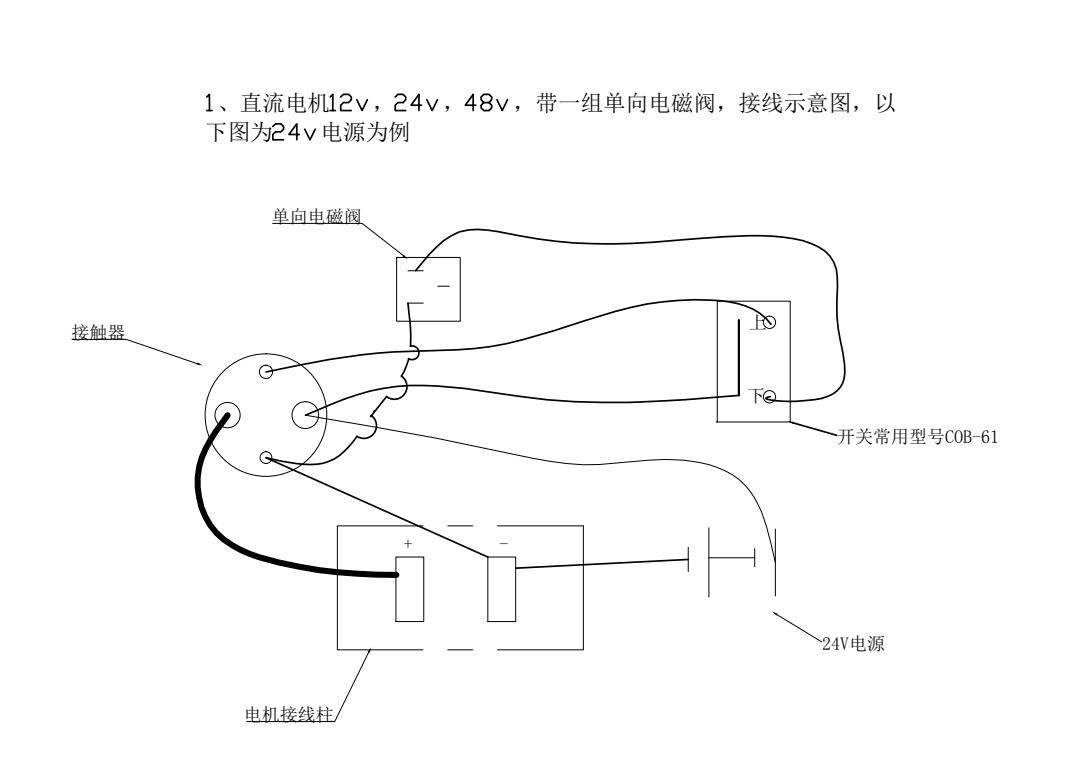 ---
Post time: Oct-26-2022